Mythos Exclusive: May 2019 Release Date plus More News
A lot of phans from Brazil, South America and around the world are very excited about what Mythos has announced. Thanks to our discussions with editor Julio Oliveira and a second release article by Mythos, we are now aware that their new publications do not stop at their first release of Daily stories in the four issues they have already announced (You can read that here).
We can now say that they will also publish eight editions containing the modern Sunday stories of the Ghost Who Walks. Apart from the Daily and Sunday stories they are also planning to reprint the first Hermes comic series and the Jim Aparo Collective Works.
According to Julio Oliveira, the first release of this new line of comics will be in May 2019. Read more about this date including how you can order your own comics in the below interview. After the interview we look in detail the extra issues announced.
Chronicle Chamber: Thank you for your time. To start can you tell us about yourself Julio and your position at Mythos.
Julio Oliveira: I'm an editor at Mythos Editora. I have worked here since 2014, and I'm responsible for some our main lines, like the Gold Edition (where we publish French Comics in its original size and format), Prime Edition where I work with characters like Hellboy and including The Last Phantom series, published originally by Dynamite (O Último Fantasma 2014 & 2016).
CC: Why the Phantom? Did you pursue this character?
JO: On Mythos, we work with characters that have great powerful nostalgic appeal, including Tex Willer, the ranger from Bonelli Comics. The permanence of the character to us showed that there is still a market for heroes that don't compromise, that do that right thing, and that is The Phantom in spades. The Phantom has a long comic book publication tradition, having being published by many publishing houses in Brazil, including Mythos from 2007.
CC: What makes the Phantom a character Mythos wants to publish?
JO: It is a phan favorite and long absent of the comic book shops and newsstands in Brazil. We think the time is ripe for a new go at it and to gain a new readership. And it is just a marvelous character.
Helcio de Carvalho, our CEO has fond memories of trading The Phantom comics when he was at school, some decades ago. He like to say that The Phantom was worth two other comics in trade, since it was so much sought at. We still think it has this kind of value: it is still worth twice as much compared to other comics in appreciation of the stories.
CC: Why print the Dailies and Sunday's from the year 1999/2000 onwards? Is it because majority of phans have not seen these stories before in comic format?
JO: The main reason is that these were not published in Brazil in any format. But the fact that the stories get progressively more complex is a plus that cannot be overlooked.
CC: Who do you target with your comics?
JO: It depends from title to title. The classic strips have a smaller print run and is marketed to the old collectors. The newer ones have a more signification printing run and is designed to appeal to everyone. The Jim Aparo material is limited in number and for the ones that liked his work on Batman… his work on The Phantom have many similarities.
CC: Why Hermes?
JO: It was a self-contained material with one the most beloved writers in Brazil: Peter David.
CC: Are you creating new covers with local artists?
JO: Yes, with Jubran. We will show these to the public very soon!
CC: Will you ever create your own Mythos created stories?
JO: The sky is the limit, but it not on our plans right now. Unfortunately, the costs of creating from step one are very steep.
CC: How can phans from around the world buy / purchase these comics?
JO: We intend to sell on Amazon, and we take orders to sell directly. We are currently working so that people would be able to get directly from our site.
CC: When will the first comic be published?
JO: All is currently in production, but we expect to have the first two on May.
CC: Thank you Julio Oliveira for your time answering some of our questions.
About the Sunday Stories
Issue One: The Shipwreckers, The Briefcase & Terror in Mawitaan pt1
Issue Two: Terror in Mawitaan (conclusion), The Sinbad Stone, The Viking Fortress Mystery & The Iron Python
Issue Three: On the Trail of an Assassin, The Time Skip, The Ossuary & Plutonium Pirates pt1
Issue Four: Plutonium Pirates (conclusion), The Accursed Land, The Jungle Lesson & The Love Triangle pt1
Issue Five: The Love Triangle (conclusion), The Lost Kingdom of Avari, The Dirty Half-Dozen & The Return of Colonel Weeks pt1
Issue Six: The Return of Colonel Weeks (conclusion), The Nomad, The Shadows of Rune Noble & The Power House Gang pt1
Issue Seven: The Power House Gang (conclusion), Revenge in Rhodia, Mandrake's Bon Voyage & Death Stalks the 5th Phantom pt1
Issue Eight: Death Stalks the 5th Phantom (conclusion), The Ghost Story & The Iceman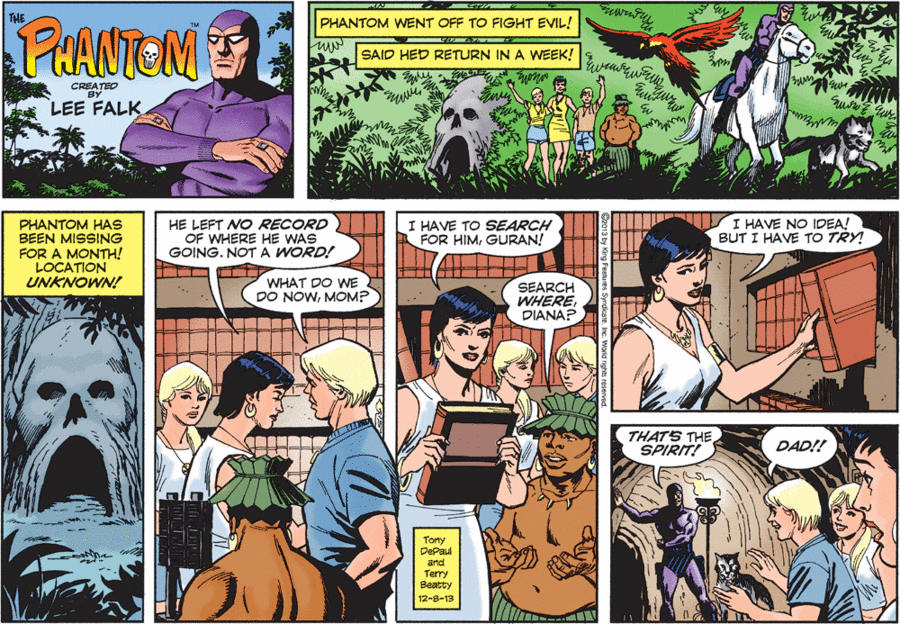 That is a huge 24 Sunday stories written by Tony DePaul, Claes Reimerthi & Graham Nolan and art by a large number of artists including George Olesen, Fred Fredericks, Graham Nolan, Paul Ryan, Eduardo Barreto & Terry Beatty. Talk about a treat!
Interestingly these will be printed in landscape format sized 13.5cm x 20.5cm so the chances are these could be in unedited original format. These volumes will all be in COLOUR and each issue will be 80 pages each.
About the Hermes Stories
We can also confirm that Mythos will be releasing more new content in Brazil for the first time featuring the Hermes Press Danger in the Forbidden City six part mini series by writer Peter David and Sal Velluto.
No word yet if this will be released as a six part mini series or as a TPB.
We are also under the impression that Mythos has entered into a relationship with Hermes and will also be republishing some of their other work like the Jim Aparo Phantom Collection Book.
All credit must go to Mythos for not just slightly dipping their toes into the water. They have fully committed to at least a two year publishing cycle with up to 15 TPBs of the Phantom. That is a solid commitment for the people of Brazil to find their love of the Phantom again.
ComicsTV is a program by Brazil comics personality Thiago Gardinali who interviewed Julio Oliveira about their new series being released in May 2019. You can watch below:
If you are going to be buying these series and would like to send in your audio reviews of the books, please contact us at chroniclechamber@gmail.com and we can include them in our X Band Phantom Podcasts.
#SalVelluto #PeterDavid #HermesPress #Mythos #TonyDePaul #ClaesReimerthi #GrahamNolan #GeorgeOlesen #FredFredericks #PaulRyan #EduardoBarreto #TerryBeatty #KingFeaturesSyndicate #Sundays #JimAparo